Let's Connect
Don't Miss A Beat
Sign up to receive Sharona's real estate market updates, open house information, restaurant picks and home inspiration.
Main Content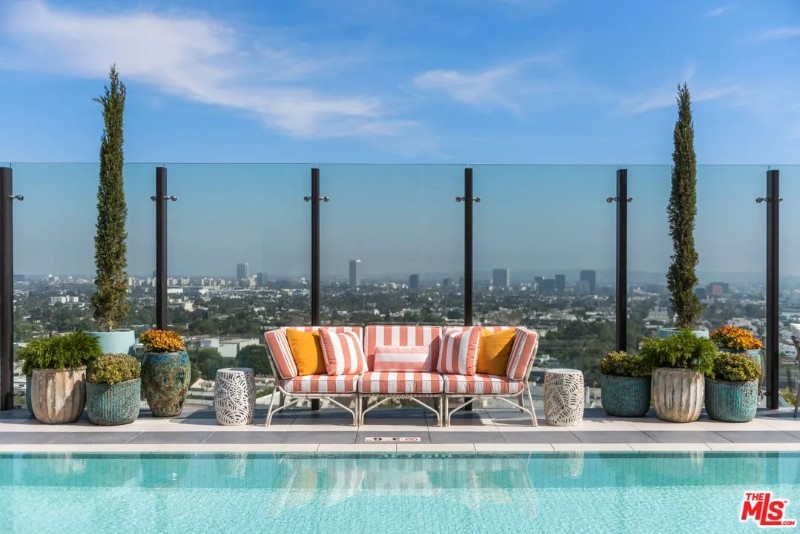 West Hollywood homes for sale
West Hollywood stands out as one of the interesting areas in California. It boasts of many notable attractions related to entertainment, music, fashion, and diverse cultures from around the world. No wonder the who's who in Hollywood, sports, and the business world have long explored luxury West Hollywood homes for sale in order to live here. With the local housing market trending up as of November 2022, prospective homebuyers have a lot to look forward to.
West Hollywood, or "WeHo" as locals fondly call it, is one of the most exciting places to visit in the United States. Before the pandemic shut the world down in 2020, the trendy city posted record numbers in tourism. About 3.59 million people visited West Hollywood and spent $1.73 billion from 2017 to 2018. Though the pandemic didn't spare West Hollywood, businesses in the city started to pick up in early 2022.
But before we look at area highlights and key attractions or hunt for West Hollywood houses for sale, it's good to take a closer look at key information about the city.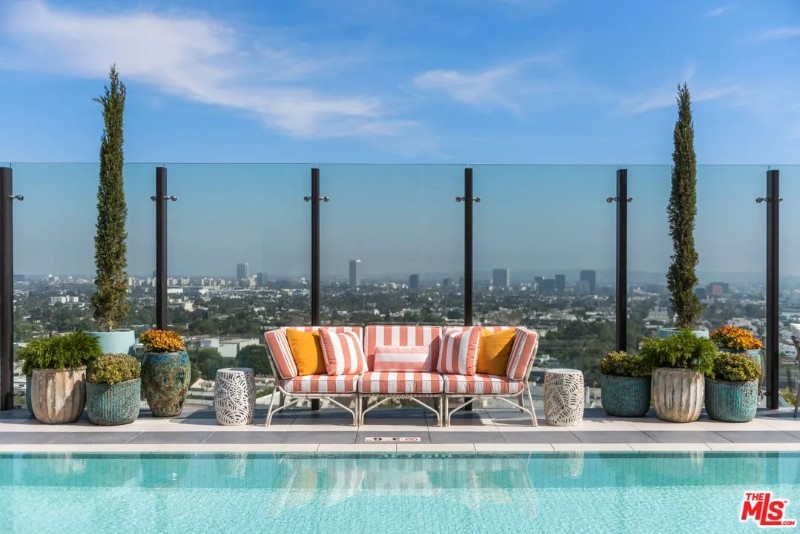 AN OVERVIEW OF WEST HOLLYWOOD
Located in Los Angeles County, West Hollywood measures just 1.9 square miles. It is home to 34,938 people and ranks 241st among the most populated cities in California. It is bordered by other key cities such as Beverly Hills to the west, Hollywood Hills to the north, Hollywood to the east, Fairfax District to the southeast, and Beverly Grove to the southwest. Though the area changed its name from "Sherman" to "West Hollywood" in 1925, it was far from earning its cityhood at the time. Its unincorporated status meant the community existed outside the Los Angeles Police Department's jurisdiction and protection. With the LA County sheriff busier elsewhere, West Hollywood became the place to drink and the center of nightlife action. The scene saw the birth of Sunset Boulevard and
The Sunset Strip
. West Hollywood became a destination for the raucous and unlawful, as well as the glamor ascribed to late night habitues. It was only in 1984 that West Hollywood officially became a city. A group of LGBTQ people who fled Los Angeles because they felt persecuted, banded with the elderly and Russian Jews to formally incorporate the area and turn it into the City of West Hollywood. Today, West Hollywood is divided into four neighborhoods: West Hollywood West, Tri-West, Norma Triangle, and Crescent. Investors and home buyers continue to look for West Hollywood homes for sale for good reason: the prices of real estate in the area have gone up over the years. The median listing price of West Hollywood, CA real estate was $1.3 million in November 2022.
LUXURY HOMES FOR SALE IN WEST HOLLYWOOD, CA
The West Hollywood housing scene offers an exciting mix of homes. Prospective buyers looking for a starter home, a vacation house, or an investment property have several options to choose from. Single-family homes are in abundance, and it's also easy to find rental apartments, condos, and townhouses. However, the most coveted type of West Hollywood Houses for sale, especially for those who wish to profit in their investment in the long run, are luxury homes. Interestingly, the luxury category isn't only limited to single-family homes. West Hollywood also offers luxury condos, luxury townhomes, and land for those who wish to custom build their dream luxury houses.
Luxury residential property types
Single-family and multi-family homes
Finding single-family and multi-family homes for sale in West Hollywood is relatively easy – even for buyers aiming for high-end, luxurious properties. Investors can find luxury single-family West Hollywood homes for sale featuring 1 to 3 bedrooms and 1 to 2 bathrooms for roughly $1.2 to $3 million. These properties can measure anywhere from 2,500 to 5,000 square feet. On the other hand, multi-family homes feature at least 6 bedrooms to as many as 16, with the same number of bathrooms. Typically, luxury multi-family homes start at 3,000 square feet and can exceed 23,000 square feet.
Condos
The area's luxury condos are just as sought after. Sales of condos valued over $3 million increased by 22.4%, with an average price of around $4.2 million during the second quarter of 2022. One of the most surprising and impressive transactions happened in 2022, when a luxury penthouse condo
sold for $21.5 million
. The unit measured a little over 6,300 square feet with a 2,782-square-foot wraparound terrace. On the other hand, regular or entry-level condos appeal to a
younger generation of buyers
, particularly millennials. This type of condo features 1 to 2 beds and baths and measures around 1,600 square feet. Prices begin at around $3.7 million. Meanwhile, buyers looking for properties triple the size can expect to pay around $13 to $18 million. These homes feature 4 to 5 bedrooms with 3.5 to 4.5 bathrooms. They also measure anywhere between 3,800 to 5,500 square feet.
Townhomes
There's also an increasing demand for new homes and luxury townhomes costing between $1.5 million and $3 million for a 3 to 4-bedroom, 3-bath unit. Though more prospective investors are drawn to these properties, demand for luxury single-family and multi-family homes remains stable.
Architectural styles and home features
Another factor that makes living in West Hollywood more appealing is the choice of architectural styles. With diversity as one of the hallmarks of the city, expect to see different architectural styles as well. Each planned subdivision in West Hollywood uses a unique architectural approach that adds to the character of the specific neighborhood.
Mediterranean
Houses in the neighborhood of West Hollywood West feature traditional Spanish home designs that date back to the 1920s. You'll also find properties sporting California or Mediterranean modern styles. These homes often use red tile roofs and feature additions that promote outdoor living such as patios. Though Mediterranean-style homes peaked in the 1920s and 1930s, there are still West Hollywood homes in this architectural style. Modern Mediterranean houses blend several influences including Italian Renaissance, Spanish Renaissance, Spanish Colonial, Andalusian, and Beaux-Arts. Some of these homes are designed with visible roof terraces or balconies. They also use flat roofs that help reflect extreme heat, especially during summer. Additionally, stucco exteriors are also used but with bright and earth-toned paint. Windows with shutters on either side can be tall while water features like fountains can also be present, showing that Andalusian influence.
Contemporary
Meanwhile, the neighborhood of Norma Triangle is the site of some of the best contemporary homes for sale in West Hollywood, CA. When you drive around the neighborhood, you'll see houses with contemporary designs that follow modern architectural principles. These properties feature the latest innovations in materials and design. Contemporary homes do share some qualities with classically modernist homes. They often employ flat roofs, blocky construction, and open-plan interior layouts, to name a few. However, newer contemporary homes are designed to be more sustainable and energy-efficient.
COMMUNITY AMENITIES FOR WEST HOLLYWOOD RESIDENTS
West Hollywood homes for sale don't only come with the property alone. You also get to enjoy different amenities that boost quality living in all aspects.
Parks
There are plenty of parks in West Hollywood that kids and adults will enjoy spending time at. West Hollywood Park is one of the best places to bring the entire family as well as pets. It has a dog park where your furry friends can run around, off-leash. There's also
a playground
for kids. Residents who like picturesque views of the city can head to
Kings Road Park
. It's perfect for unwinding and weekend strolls. It also has a shaded pocket park and a waterfall that are a refreshing break from the frenzy of the city. Like West Hollywood Park, Kings Road Park also has a designated playground. If you like nice picnics,
Plummer Park
has you covered. It features green lawns and impressive landscaping creating the perfect stage for relaxed get-togethers . Moreover, Plummer Park boasts the largest playground in the city and is home to some public tennis courts.
Restaurants
West Hollywood is a city that satisfies every gastronomic craving. Home to some of the finest restaurants in California, West Hollywood's variety of dining options will satisfy every palate. Here are some of the best:
Shopping
Online shopping is great but nothing beats the renewed experience of strolling into a store and appreciating the stuff and the vibe in real life. is Here are the best places to do that, upscale and otherwise:
The Beverly Center. This is the shopping destination where high-end items, regular-priced items, and everything else in between meet. Its stores cater to all – men, women, and children. Shop for clothes, shoes, bags, and accessories. Pick up your electronics, books, toys, and beauty and health products. Grab a latte or eats in its many restaurants and coffee shops.
Sunset Plaza. For a different kind of shopping experience, Sunset Plaza's outdoor retail strip spans two blocks and allows some sightseeing as you shop. It's also the preferred place for beauty, fashion, and skincare products.
LIVING IN WEST HOLLYWOOD, CA
It comes as no surprise that people searching for West Hollywood homes for sale have become younger in recent years. In 2022, the area was hailed as
one of the best suburbs
for young professionals in California. In fact, celebrities have populated its upscale neighborhoods. Some of them have included Katy Perry, Johnny Depp, Mila Kunis, and Kylie Minogue.
Schools
When it comes to education, West Hollywood has its share of top-rated public schools. There's West Hollywood Elementary School and
Larchmont Charter School
. The latter offers schooling for elementary, middle, and high school students. Parents who prefer enrolling their kids in private schools also have some good options. Private institutions in and around the city are
Harvard-Westlake School
,
Windward School
,
Marlborough School
,
Oakwood School
, and
Prospect Sierra School
. Meanwhile, college students can apply to Loyola Marymount University, CalTech, and UCLA.
Attractions
Once you've checked off shopping, dining, parks, and the nightlife on the
Sunset Strip
, here are a few more attractions to gun for in West Hollywood:
Visit the legendary Whisky A Go Go and dance to live music. Established in 1964, this iconic WeHo bar has hosted the likes of Janis Joplin, Led Zeppelin, and The Doors, among other rock & roll legends.
Explore the interior design showrooms at the Pacific Design Center. The impressive complex standing proudly in West Hollywood's design district consists of three buildings that look like angular glass blocks in red, green, and blue. It houses the Museum of Contemporary Art which showcases exhibits, workshops, and screenings.
Rediscover the joy of borrowing books by getting a library card from the West Hollywood Library. With 7.5 million books in its collection, not to mention a slew of other publications, the West Hollywood Library is a treasure trove. The library also hosts art exhibits by local artists. Be sure to check the murals made by street artists Shepard Fairey and Kenny Scharf adorning the three-story building.
Hike to the top of Runyon Canyon. As one of the most popular hiking trails near WeHo, it features four trails with varying degrees of difficulty. Reaching the top will give majestic views of Los Angeles no other place can.
Employment opportunities
People looking for West Hollywood homes for sale will find job opportunities in management, business operations, healthcare, and the arts and recreation sectors. Also, California's
unemployment rate fell
earlier in 2022, highlighting a bounce back from the pandemic.
New employment laws
were also enacted in 2022, improving the paid time-off and minimum wage of workers in WeHo.
PURCHASE WEST HOLLYWOOD HOMES FOR SALE WITH 'MY SHARONA'!
If you're browsing West Hollywood homes for sale,
contact me, Sharona Alperin
. Aside from having The Knack write the song, "My Sharona" for me, I am also best known for being a successful Realtor for over 30 years. I have helped people find the
best luxury homes for sale in West Hollywood
. My passion for LA culture is something I cannot help but share through my services. Knowing West Hollywood like the back of my hand makes me an authority on this vibrant city and the beautiful properties it offers. While I may be a well-known Realtor and pop culture personality in LA, I remain utterly low-key when it comes to real estate transactions. Many of my clients are involved in professional sports, media, and entertainment. For them, privacy and discretion are of the utmost importance. And that's exactly what they get from me. Thankfully, they appreciate all that I do.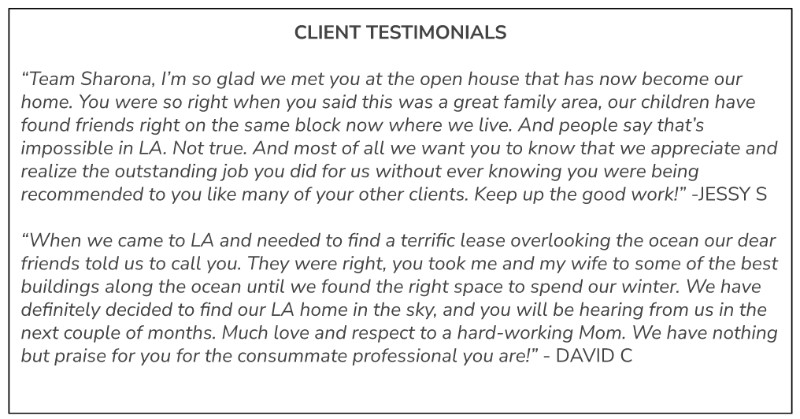 Connect with me, Sharona, and let me find you the best West Hollywood houses for sale. As one of the agents belonging to the top 2% of Sotheby's International Realty's agents in the country, expect me to deliver top-notch, personalized services. Call me at [ai_phone href="+1.310.205.0305"]
310.205.0305
[/ai_phone] or
contact me here
. Whether it's a sleek condo, a contemporary house, or a sprawling mansion you're looking for, I can help find the right one for you.
Homes For Sale In
West Hollywood

Based on information from CSMAR, CRMLS, and/or CLAW, and/or CRISNet MLS as of September 29, 2023 2:06 AM PT. The information being provided by CSMAR, CRMLS and/or CLAW and/or CRISNet MLS is for the visitor's personal, non-commercial use and may not be used for any purpose other than to identify prospective properties the visitor may be interested in purchasing. Any information relating to a property referenced on this website comes from the Internet Data Exchange ('IDX') program of CSMAR, CRMLS and/or CLAW, and/or CRISNet MLS. This website may reference real estate listing(s) held by a brokerage firm other than the broker and/or agent who owns this website. Any information relating to a property, regardless of source, including but not limited to square footage and lot sizes, is deemed reliable but not guaranteed and should be personally verified through personal inspection by and/or with the appropriate professionals. The data contained herein is copyrighted by CSMAR, CRMLS and/or CLAW, and/or CRISNet MLS and is protected by all applicable copyright laws. Any dissemination of this information is in violation of copyright laws and is strictly prohibited. IDX powered by iHomefinder, Inc.