Let's Connect
Don't Miss A Beat
Sign up to receive Sharona's real estate market updates, open house information, restaurant picks and home inspiration.
Main Content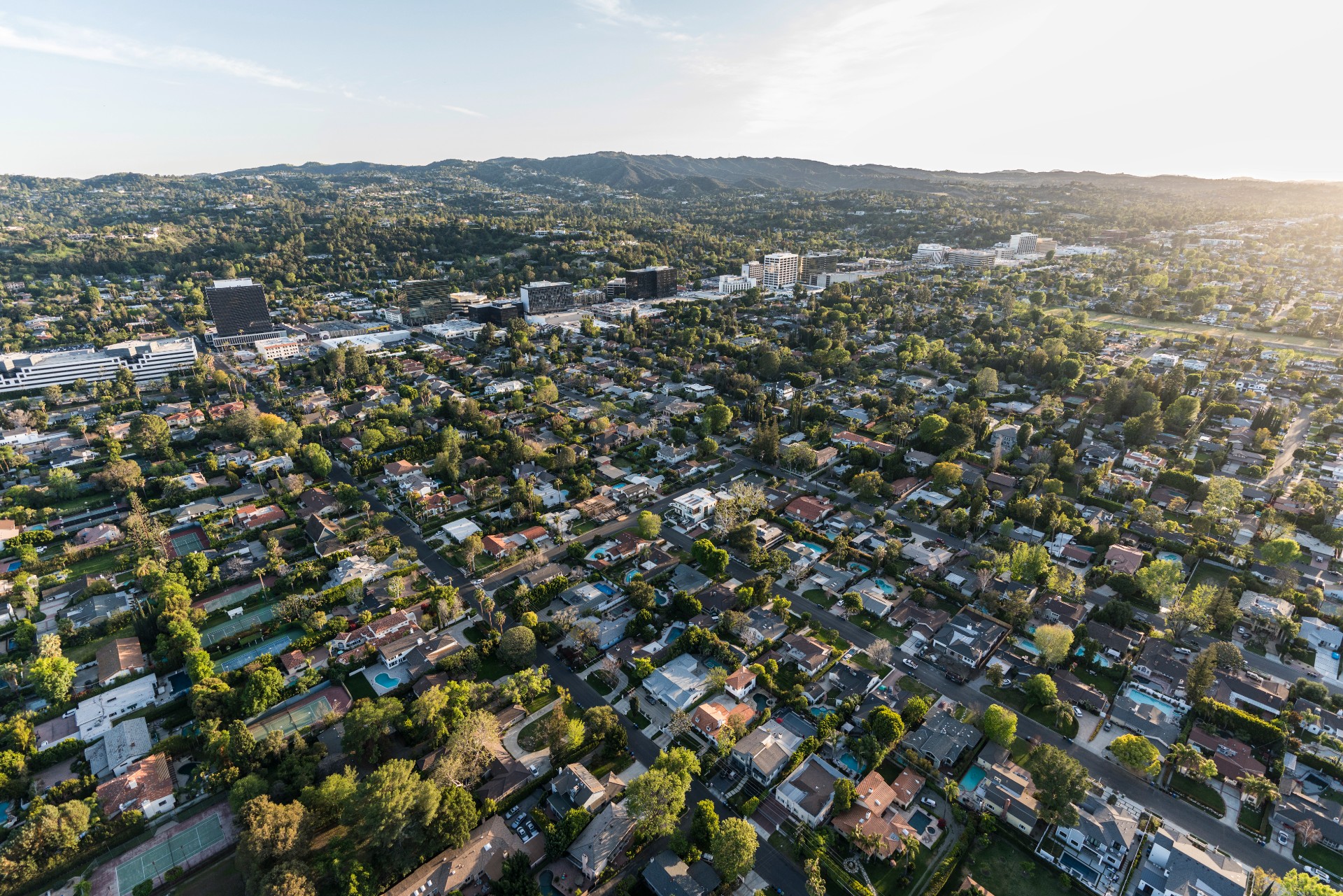 Sherman Oaks is nothing like the stereotypical image of Los Angeles. It's serene, laid-back, and, in a word, residential. But natives know that the city, despite its high-powered lifestyle, has pockets of suburbia where residents enjoy a much slower pace of life.
Tucked away in the heart of the San Fernando Valley, Sherman Oaks is a hidden gem in the bustling metropolis of Los Angeles. Historically known for its sprawling ranches and citrus groves, the neighborhood has evolved from a quaint neighborhood into a growing urban center, attracting young professionals, families, and retirees alike.
With Los Angeles home to dozens of flashier locales, Sherman Oaks tends to get pushed to the side. But for many prospective homeowners looking for a holistic community, Sherman Oaks should be high on the list of options. In this guide, we're shining the spotlight on Sherman Oaks and all it has to offer.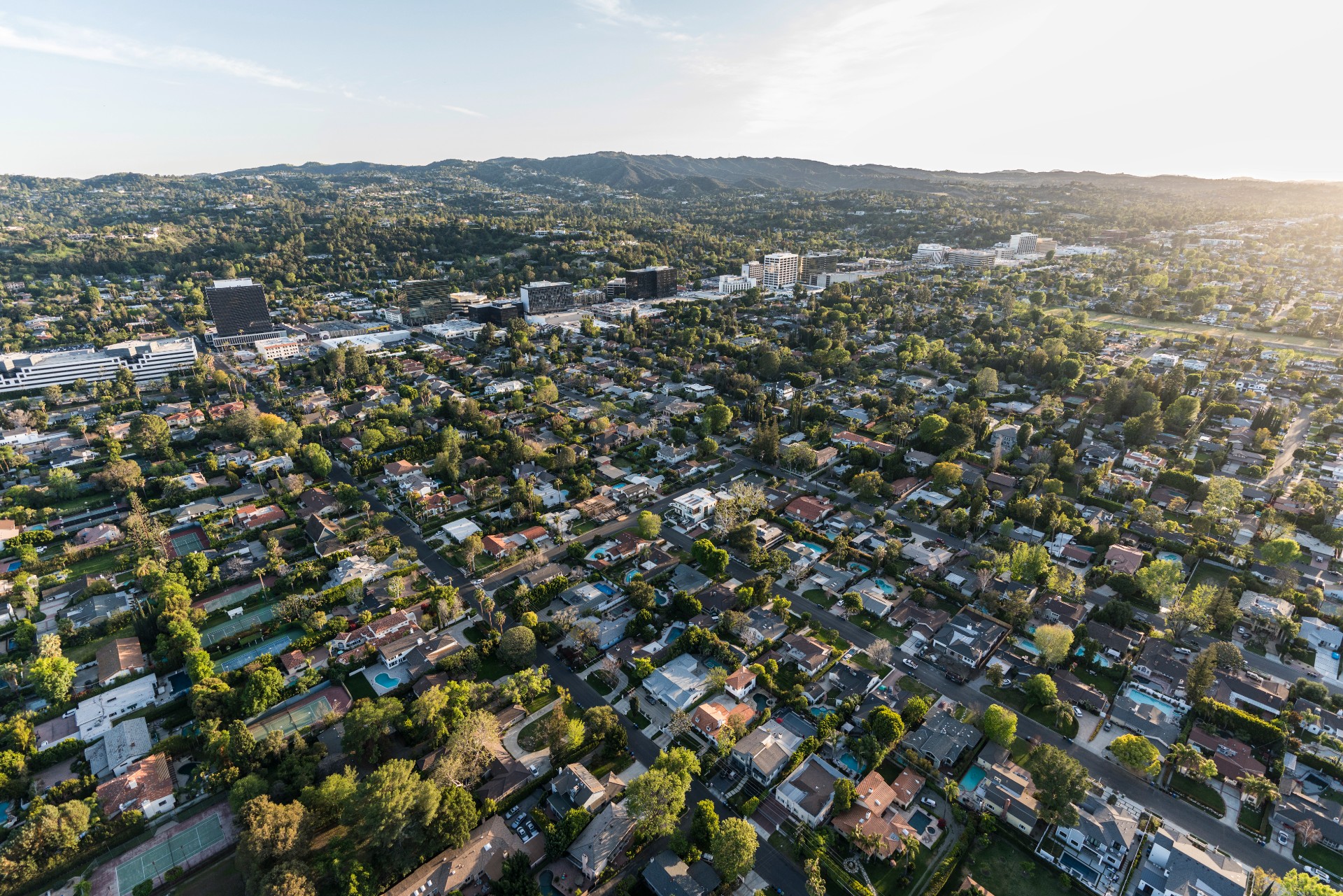 Table of Contents:
WELCOME TO SHERMAN OAKS!
Sherman Oaks is a neighborhood in Los Angeles, California spanning 9.64 square miles. Part of it is perched along the Santa Monica Mountains which gives it a sparser feel compared to most other LA neighborhoods. As of the 2019 census, an estimated 57,100 residents call it home.
This affluent neighborhood is a hub for entertainment, shopping, and dining, offering an eclectic mix of modern amenities and laid-back California charm.
It's flanked by Van Nuys to the north and Studio City to the east. Head south and you'll find yourself in Bel Air; head west and you're in Encino. Downtown Los Angeles is a little farther southeast and roughly 16-21 miles away depending on the route you're taking.
Getting in and around Sherman Oaks
Accessibility is the name of the game at Sherman Oaks, and you'll soon find that many LA hotspots are just a car ride away. Nearby cities and neighborhoods include:
Burbank (25 minutes by car)
Century City (25 minutes)
Santa Monica (25 minutes)
Beverly Hills (19-21 minutes)
West Hollywood (24-25 minutes)
While public transport in Sherman Oaks is limited, the neighborhood is easy to navigate. It's a walkable and bikeable neighborhood with plenty of pedestrian-friendly pathways, making it ideal for cyclists, joggers, or anyone who wants to complete their 10,000 steps. Ride-sharing services like Uber or Lyft are also available if you want to go out of town.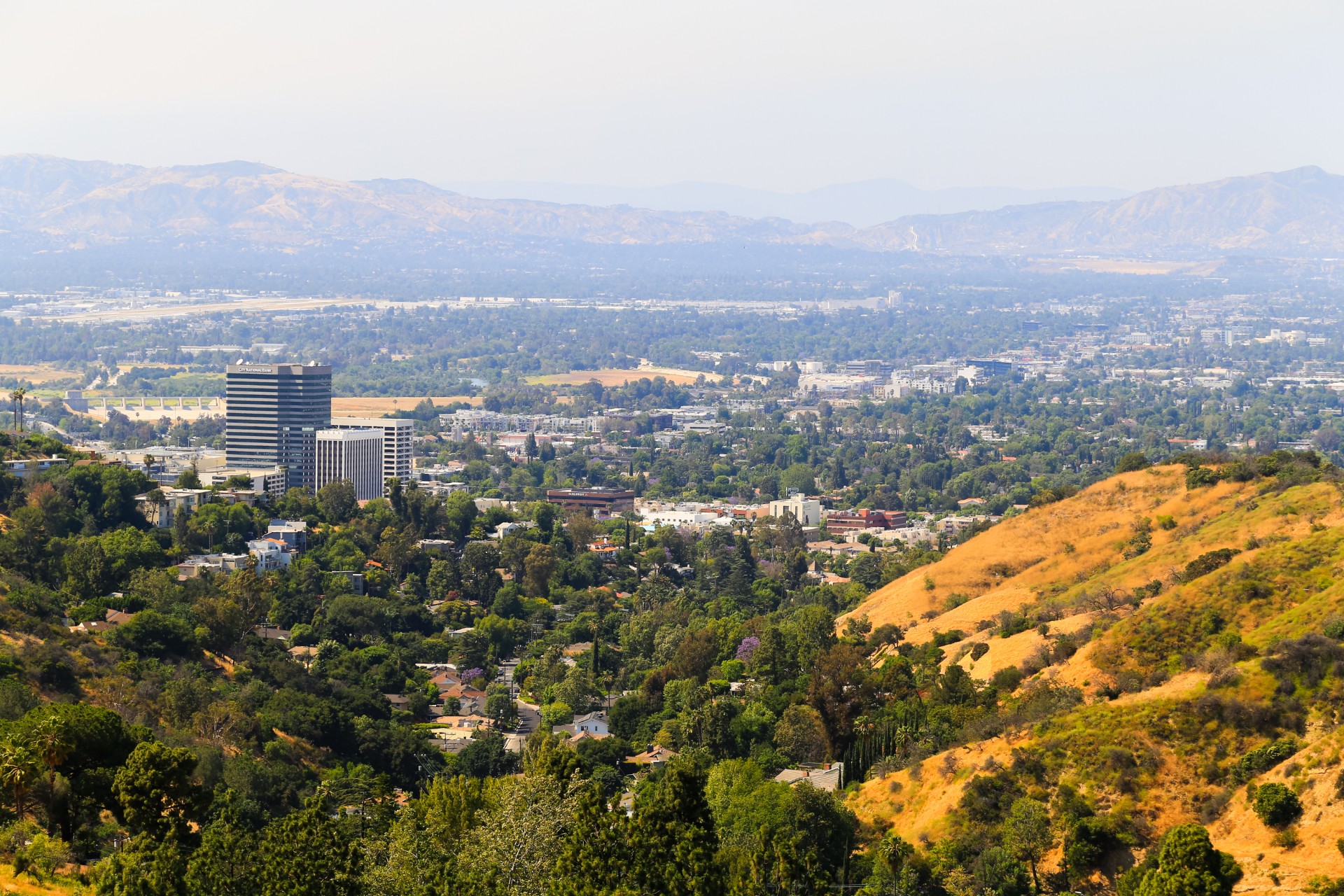 LUXURY HOMES FOR SALE IN SHERMAN OAKS, CA
An affluent suburb, Sherman Oaks has a bevy of luxury homes that even the most discerning buyer will fall in love with. The average Sherman Oaks resident is surrounded by world-class neighborhoods, exquisite design, and breathtaking scenery all within a short distance, making it a homeowner's dream.
Property types
Single-family homes. The area offers a mix of traditional ranch-style, modern contemporary, and Mediterranean-style single-family houses. These properties are typically spacious with mid-range home sizes ranging from 2,000 to 4,000 square feet, swinging to as high as 8,000 square feet for upmarket properties. Many offer features such as large yards and panoramic views of the surrounding hills.
Condominiums are a popular choice for buyers looking for a more affordable option or those who prefer low-maintenance living. These properties come in a range of sizes and styles, from cozy one-bedroom units to spacious three-bedroom units with balconies and patios.
Townhouses are rarer in a community like Sherman Oaks, but they're ideal for those who want more space and privacy than a condo without the upkeep required of a single-family property. With multiple levels at an affordable price, townhouses offer a middle ground between single-family homes and condos.
Features of luxury homes in Sherman Oaks
From soaring ceilings to rich hardwood floors and custom finishes, every detail in a Sherman Oaks luxury home is thoughtfully crafted to provide the utmost comfort. You'll find large windows offering breathtaking views of the surrounding hills and the lights of Los Angeles. The kitchens are a chef's dream, equipped with the latest high-end appliances, custom cabinetry, and generous counter space.
Outside, the lushly landscaped gardens provide a peaceful oasis, perfect for enjoying the temperate Southern California climate. Relax by the sparkling pool, entertain on the patio, or simply take in the stunning views of the surrounding landscape.
That's not all – expect to see highly coveted features such as:
Spacious master suites
Open floor plans
Sweeping backyards
Customizable den or office space
Built-in fireplaces
Smart home systems
Designated media rooms
Inviting outdoor living spaces
As for architecture, high-end homes often carry a mix of Mediterranean, Modern, Ranch, Mission Revival, and Neo-Classical influences.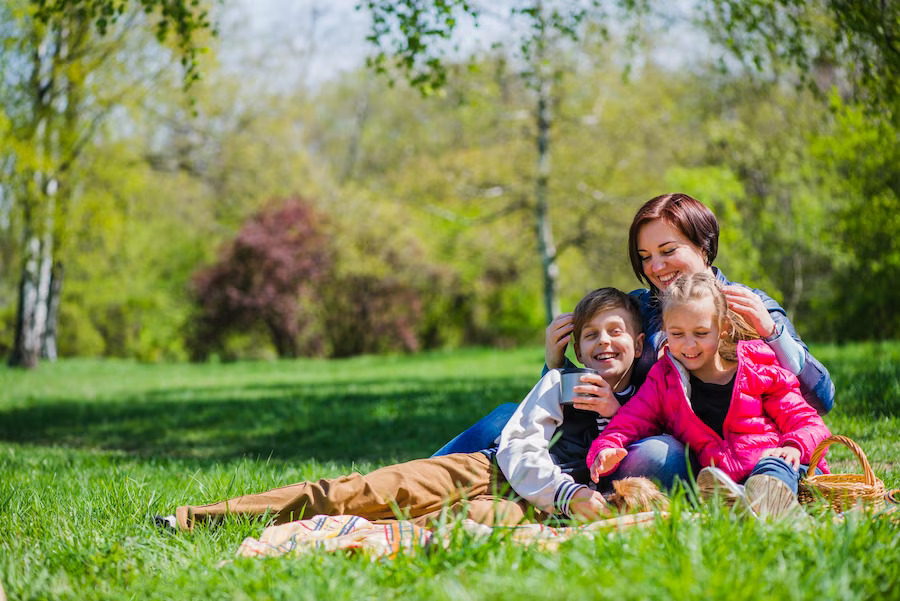 LIVING IN SHERMAN OAKS, CA
Every year, people flock to Los Angeles by the millions. With over 200 neighborhoods to choose from, migrants and visitors have an abundance of options that suit their preferences, needs, and lifestyle. So, what makes Sherman Oaks so special? Here are a few factors that we believe make it an excellent choice:
Residential character. Sherman Oaks is the very picture of a small-town. A quick walk around the area will show you abundant trees, well-maintained streets, and large parks where people walk their dogs or picnic with families. A few high-profile residents may have relocated here, but it remains a tranquil, community-oriented neighborhood with a distinct residential character.
Stellar educational opportunities. Families living in Sherman Oaks won't need to worry about their children's future. The neighborhood is served by the Los Angeles Unified School District which is home to several highly-rated public schools for levels kindergarten to Grade 12. Here, students can earn a holistic education at reputable institutions that equip them for success in their chosen fields.
The best of both worlds. Location is crucial in real estate, and homes for sale in Sherman Oaks provide homeowners the best of both worlds. With key areas like Hollywood, Beverly Hills, and Downtown LA only a quick drive from the neighborhood, residents have the luxury of being mere minutes away from the core of the city. Residents can explore the metropolis during the day and come home to suburban bliss at night.
Community profile
Sherman Oaks boasts a vibrant, neighborly community with varying backgrounds and ages, from young transplants to entertainment moguls to retired professionals. City-Data.com shows that 41% of all Sherman Oaks residents are families.
Perhaps its tranquil, neighborly atmosphere is what draws A-listers to the area:
Both actress Jennifer Aniston and singer Paula Abdul formerly owned property in Sherman Oaks.
Rapper Wiz Khalifa has a $4.6 million home in the neighborhood complete with a full-service recording studio.
Heiress Paris Hilton owns a $5.9 million, 7,500-foot-mansion in the guard-gated Mulholland Estates. The luxury estate was built in 1991 and features 5 bedrooms, 6 bathrooms, and a pool.
Economy & employment
A skilled and diverse workforce with strong ties to the entertainment industry can be found in Sherman Oaks. An estimated 15% of residents work in the fields of arts, entertainment, design, and media. However, it's only the second-most common industry in the area; an approximated 20.8% of residents occupy sales and office jobs. Other popular industries include management, finance, and service work.
Schools
The Sherman Oaks educational community empowers its students towards holistic success in academic, social, and cultural fields. Here, students are assured a bright future under the expert hand of reputable schools.
Served by the Los Angeles Unified School District (LAUSD), which enrolls over half a million students from kindergarten to 12th grade, Sherman Oaks is home to 5 public schools and 6 private schools. Among the top education centers in the neighborhood are:
Recreation
California's sunny weather is one of the many advantages of living on the West coast. With lows rarely falling below 50 degrees and little to no snow during the winter seasons, the Sherman Oaks' temperate climate is excellent for enjoying the outdoors. Here are a few ideas for your next family outing:
Hit a home run at the Van Nuys-Sherman Oaks Park

The sprawling outdoor playground is a popular recreation center for residents of both Van Nuys and Sherman Oaks. It features football fields, multiple baseball diamonds, basketball courts, a pool, and various paved paths for jogging, strolling, and dog walking. The park also offers a youth sports program that encourages budding athletes to hone their skills and discover their passions.

Practice your swing at the Sherman Oaks Castle Park

At Castle Park, there's truly something for the whole family. Want to refine your baseball technique? Head over to the batting cages and swing to your heart's content. If teeing off is more your preference, the full miniature golf course lets you play a friendly game surrounded by nature.

Commune with nature at The Japanese Garden

If you're up for a short trip outside town borders, The Japanese Garden at Lake Balboa is less than 10 minutes from the neighborhood but whisks you worlds away to ancient Kyoto. The 6.5-acre preserve is named Suiho En or "the garden of water and fragrance" after its lush foliage, classic design, and calming aura. Here, you can meditate at the Zen garden or witness a traditional tea ceremony firsthand.
Shopping and dining
Westfield Fashion Square is the place to go if you want to diversify your wardrobe or expand to your jewelry collection. Sherman Oaks' leading shopping center encompasses everything from local retailers and vintage consignment stores to high-end brands such as Coach, Steve Madden, Swarovski, and Pandora.
The Sherman Oaks farmers market is held at Westfield every Tuesday from 2 p.m. to 6 p.m. Sample local goods or stock up on fresh produce at this weekly market where you'll find artisanal goods, meats, dairy, bread, and veggies from the finest farmers in the Valley.
Ventura Boulevard runs through Sherman Oaks and is known for a long strip of sushi restaurants, colloquially referred to as "Sushi Row." Taisho, Kaiju, and Dojo are just a few of the names you'll spot here. It's also home to LA's favorite alternative grocery store Erewhon Market, Lisa Rinna's boutique Belle Gray, and Mexican restaurant Casa Vega.
Dubbed San Fernando Valley's original shopping district, Sherman Oaks Galleria is an open-air urban center located at Ventura Boulevard. Whether you want to grab a cup of coffee, shop the latest trends, pay a visit to the dentist, or unwind at a spa, you can do it all at this one-stop shop.
Attractions
Observe the cosmos from central LA

Griffith Observatory is a tourist favorite for a reason. Perched on the southern foothills of Mount Hollywood, Griffith Observatory is part of the 4,200-acre Griffith Park and sits nearly 1,134 feet above sea level. The tower lays claim to the best view of the Hollywood sign and Los Angeles skyline, as well as immersive shows on space and the stars that any astrophile will love.

Watch the movies come to life at Universal Studios Hollywood

Only a short car ride from Sherman Oaks is the Universal Studios. Encompassing over 400 acres of rides, interactive museums, historical galleries, live stages, and world-famous restaurants, there is something for everyone at Universal Studios, whether you're a lover of the cinema or a huge fan of theme parks.

Snap a photo at the Hollywood Walk of Fame

La-la-land is home to its fair share of picture-perfect tourist spots and many of them are a quick drive from Sherman Oaks. A testament to California's filmmaking culture, the Hollywood Walk of Fame is a historic monument that runs 1.3 miles – roughly 15 blocks – on Hollywood Boulevard. It features more than 2,700 names of actors, producers, directors, and fictional characters.
Events
Community is at the core of Sherman Oaks, and it's seen in the various events organized annually.
The Sherman Oaks Street Fair, one of the largest festivals in the Valley, is held at Ventura Boulevard and averages 100,000 visitors every year. Whether you're looking to get some holiday shopping done or stock up on locally-sourced goods, this massive festival is the best place to do it. Vendors span the gamut, selling everything from vintage jewelry to pet food, skincare products, and automobiles.
At the Spring Into Wellness Health Expo, visitors can avail of free health services such as group exercise classes and diagnostic tests while enjoying live stage performances. The Expo seeks to foster a culture of health and wellness within the Sherman Oaks community and is held at the Westfield Fashion Square.
For lovers of the cinema, the Sherman Oaks Film Festival showcases the best local independent films in the Valley. Founded by natives and industry veterans, the SOFF has categories for feature films, short films, documentaries, music videos, and screenplays.
NAVIGATE SHERMAN OAKS WITH SHARONA ALPERIN
A good Realtor is an asset resource for any family looking to relocate. With me, Sharona Alperin, and my team of experienced professionals, you can rest assured you're in capable hands.
Most people know me as the muse for the 70s hit "My Sharona" by The Knack, but it's my dedication to personalized service that leaves a mark on my clients. An Angeleno through and through, my love for Los Angeles runs deep, and it's given me unmatched insight into the local luxury market. As a Realtor, I do everything I can to make sure my clients are satisfied with their service, because your happiness is my own.
Discover the luxury property of your dreams today! Explore homes for sale in Sherman Oaks, Los Angeles, and beyond you work with LA's finest real estate professionals. Get in touch with us at Sharon Alperin and Associates at 310.205.0305 or via email.
Homes For Sale In
Sherman Oaks