Let's Connect
Don't Miss A Beat
Sign up to receive Sharona's real estate market updates, open house information, restaurant picks and home inspiration.
Main Content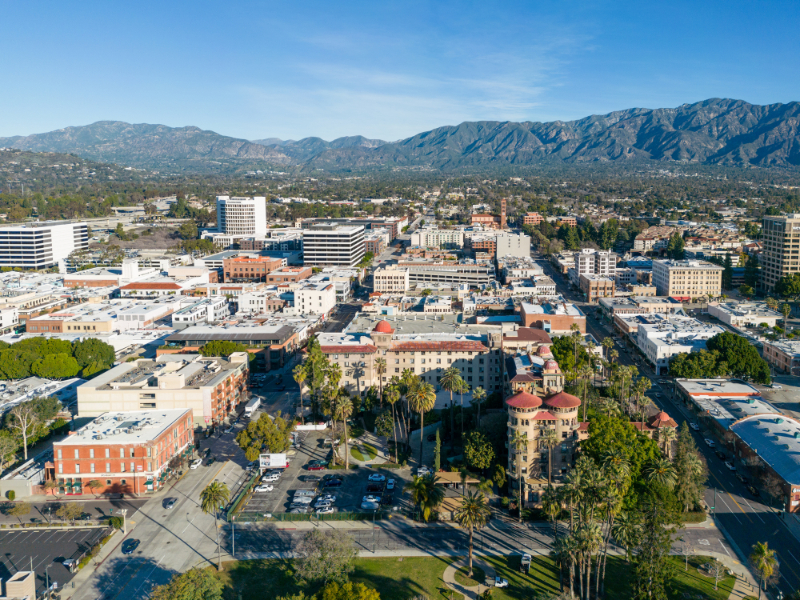 Set against the backdrop of the San Gabriel Mountains lies Pasadena, the Rose City. Many assume it's an LA suburb, but it's a thriving city with its own unique identity. Dynamic, culturally diverse, and surrounded by picture-perfect landscapes, Pasadena is one of the most desirable places to call home in sunny Southern California.
Learn about the rich history, amenities, attractions, and incredible homes for sale in Pasadena, California.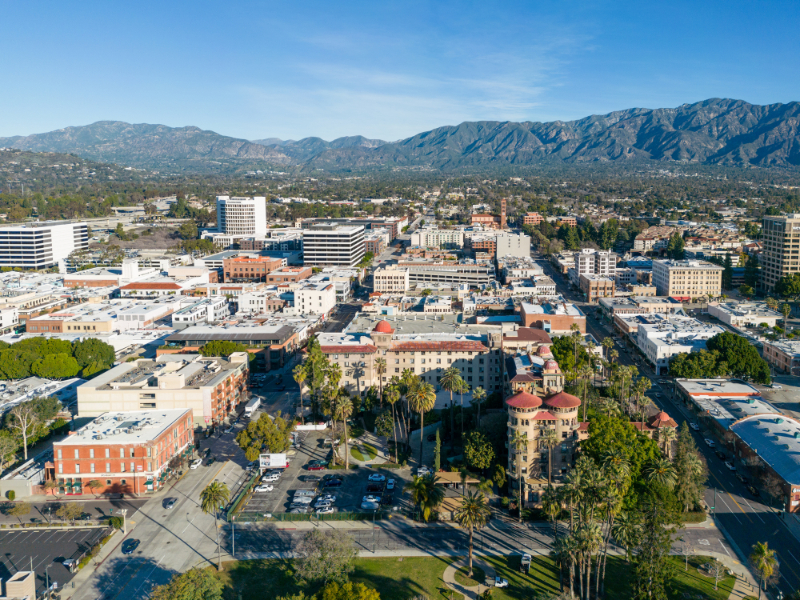 About Pasadena, CA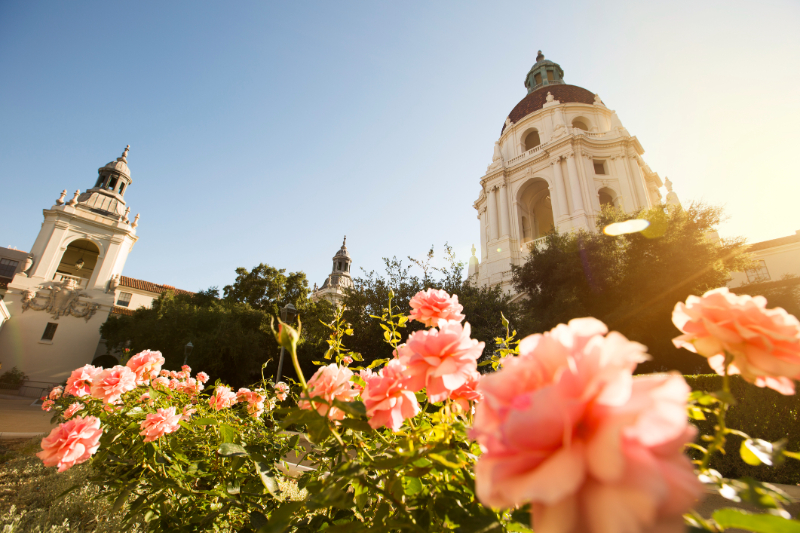 The Pasadena City Hall, erected in 1927, is listed on the National Register of Historic Places and is considered a California Historical Landmark. The roses on the foreground allude to Pasadena's nickname as the Rose City, which originated when the first Tournament of Roses Parade was held 1890.
Pasadena is a highly sought-after community, thanks in part to its unbeatable location. Despite its mountainside setting and sense of seclusion, this city of about 139,000 people is just 10 miles northeast of Downtown Los Angeles and a little over an hour's drive west to the beaches of Santa Monica and Malibu.
Thus, living in Pasadena means quick and convenient travel, whether it's for work or leisure. Its proximity to major freeways such as the 210, 134, and 110, makes commuting to neighboring regions a breeze. The Metro Gold Line light rail system is also easily accessible for those looking for a reliable public transportation option.
How Pasadena became the city it is today
Pasadena has a rich and captivating history that has shaped what it is today. From being originally inhabited by the Hahamog-na tribe of Native Americans, to being divided into ranchos in an era when California was still a province of Mexico, to the time California became part of the United States following the end of the Mexican-American War in 1848.
Founding. Pasadena was officially founded in 1875 after a group of wealthy investors from Indiana bought the land. Given its lush greenery and temperate climate, it was originally promoted to wealthy Americans looking to escape the harsh East Coast winters.
Growth and development. The late 19th to the early 20th centuries saw Pasadena's rapid growth and development. It was incorporated as a city in 1896 and became a hub for innovation, and education, attracting scholars from across the country. The renowned California Institute of Technology (Caltech) was founded in 1891, solidifying Pasadena's status as an academic center. Meanwhile, the Pasadena Playhouse enriched the city's cultural cache and contributed to its reputation as a hub of artistic expression when it opened in 1917.
Pasadena today. Today, Pasadena continues to be a vibrant and diverse city, known for its historic neighborhoods, thriving downtown area, and unique blend of architectural styles. The city's commitment to preserving its historical landmarks while embracing modernity ensures a harmonious blend of old and new.
Pasadena Real Estate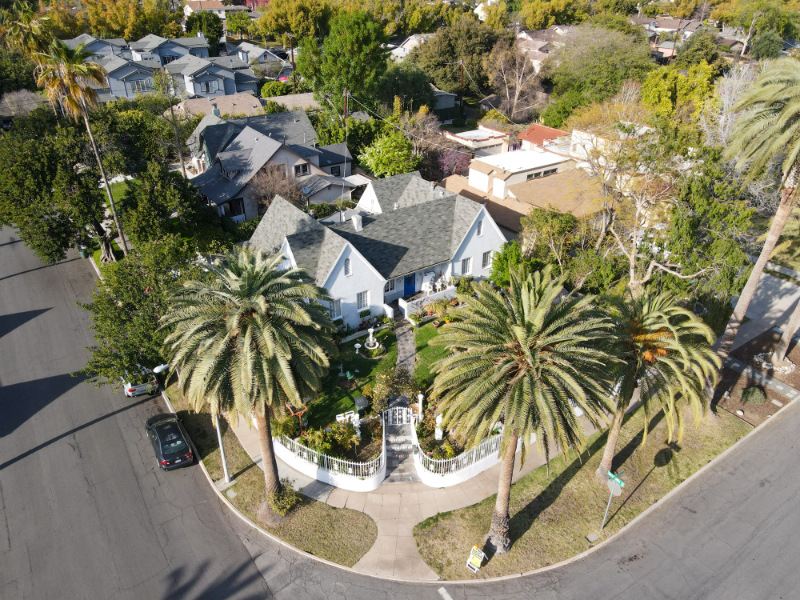 Pasadena's real estate market is characterized by its competitiveness and stability. The city's enduring appeal means market interest in its properties remains strong and consistent. While prices can vary significantly depending on the neighborhood and property type, the investment potential is undeniable. From October 2021 until October 2023, the median listing price in Pasadena has never dipped below a million dollars.
Architecturally diverse
Architectural diversity is a hallmark of Pasadena's housing market, boasting an array of styles, including Craftsman, Colonial Revival, Spanish Revival, and Mid-Century Modern. Each neighborhood has an architectural character, enabling buyers to find a residential area that resonates with their tastes and preferences.
Pasadena properties are also designed to take full advantage of the city's proximity to the San Gabriel Mountains. The most coveted homes for sale in Pasadena are set on gorgeous hillsides overlooking the metro and the surrounding natural attractions.
In terms of types, the city generally offers single-family homes and grander estates, but it's not uncommon to see townhomes and condos. Lot sizes are generously portioned to provide enough space for gardening and hosting gatherings.
Historically significant
If you're in the market for historic homes, Pasadena should be at the top of your list. The community takes pride in preserving its historical residences. Homeowners invest in maintaining the unique features of their properties and restoration efforts are encouraged if needed.
Many of the historic properties in the market are also thoughtfully updated to include modern comforts. Expect to find features such as state-of-the-art appliances, smart home technology, and entertainment systems.
Distinctive neighborhoods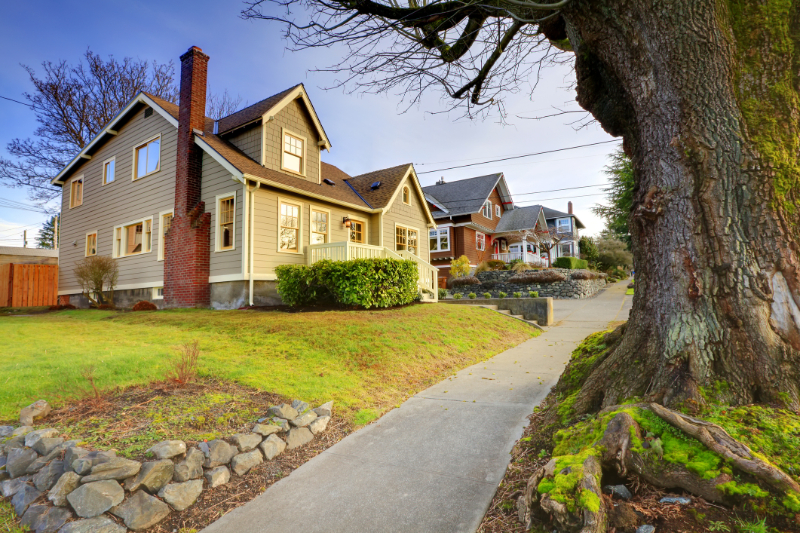 You'll find Craftsman-type homes in some of Pasadena's distinctive neighborhoods
One of the most exciting aspects of living in Pasadena is the diverse range of neighborhoods.  Whether you're looking for historic charm, modern living, or a tranquil suburban setting, the city has it all. Here's a look at the most sought-after neighborhoods in the area:
Bungalow Heaven

Bungalow Heaven is a charming historic neighborhood that lives up to its name. It's renowned for its collection of well-preserved Craftsman-style homes, many of which were built in the early 20th century. Each spring, the neighborhood hosts the Bungalow Heaven Home Tour, where residents open their doors to showcase the architectural beauty of their vintage homes.

Madison Heights

Located just west of Old Town, Madison Heights offers an affluent living experience. The neighborhood features stately mansions, beautifully landscaped gardens, and a refined atmosphere. Residents enjoy the convenience of nearby South Lake Avenue, a bustling district known for its high-end shopping, gourmet dining, and cultural attractions.

South Arroyo

South Arroyo, nestled in the embrace of the Arroyo Seco, resonates with nature lovers. The neighborhood is surrounded by serene beauty, offering access to picturesque hiking trails and open spaces. It features several cultural destinations, such as the Norton Simon Museum, which houses an impressive collection of European and South Asian art.

Playhouse Village

Situated in the northern portion of the city, Playhouse Village is a historic enclave that celebrates art in all its forms. If you stroll along the streets, you'll find a plethora of art galleries and studios where local and international artists showcase their creations. It's also home to renowned performance centers like the Pasadena Playhouse and the Boston Court Performing Arts Complex.

San Rafael Hills

San Rafael Hills is a great option for those seeking a peaceful retreat while being just a stone's throw away from all that Pasadena has to offer. Perched on the foothills of the San Gabriel Mountains, this idyllic neighborhood offers stunning vistas of Pasadena, Los Angeles, and the surrounding mountains. It's also conveniently located near the vast Angeles National Forest, providing easy access to an array of outdoor activities.

Stay up-to-date with homes for sale in Pasadena by working with a seasoned Los Angeles Realtor. Consider booking a private consultation with Sharona Alperin to learn more about Pasadena real estate.
Living in Pasadena, CA
Life in Pasadena is laidback, a welcome respite from the grid culture often associated with the LA lifestyle. This unhurried atmosphere paired with year-round sunshine makes it easier to get the most out of everything the city offers. From its fantastic food scene and charming shopping options to its outdoor and cultural attractions, there is plenty to see and experience in Pasadena.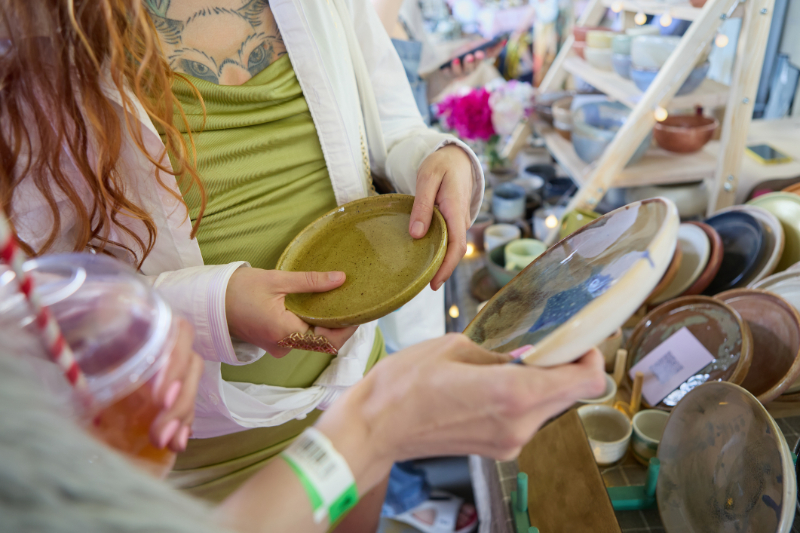 Shopping
Old Pasadena
Step back in time and embrace the charm of Old Pasadena. This historic district boasts a captivating atmosphere filled with boutiques, art galleries, and quaint shops. Be sure to check out Vroman's Bookstore. A Pasadena institution since 1894, this independent bookshop's collection ranges from bestsellers to rare finds.
South Lake Avenue
For a touch of sophistication, South Lake Avenue is the go-to destination. This bustling shopping district features a mix of high-end fashion brands, jewelry stores, and gourmet dining options. Walk along the palm-lined streets and browse the latest trends at stores like Macy's, Tiffany & Co., and Williams-Sono.
Rose Bowl Flea Market
Drop by the legendary Rose Bowl Flea Market every second Sunday of the month. It's not just a shopping destination; it's an event. With over 2,500 vendors offering everything from vintage clothing and antique furniture to rare collectibles, the flea market guarantees special finds for all. Arrive early to snag the best deals.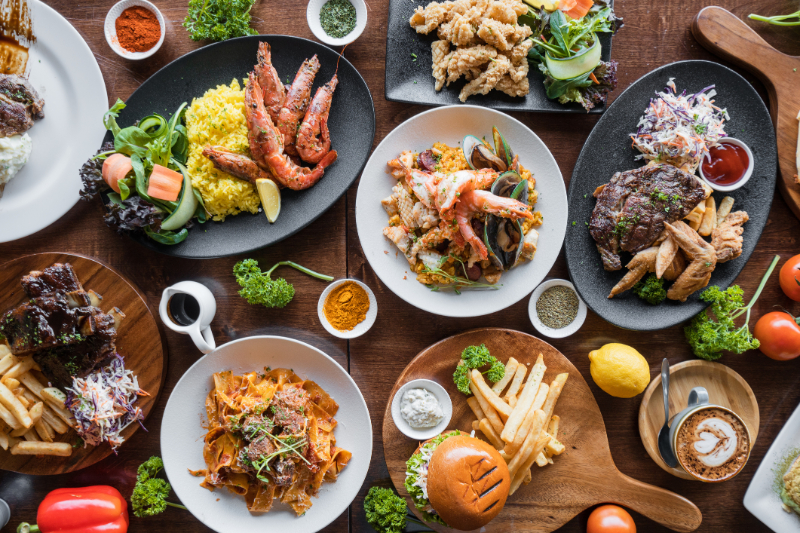 Dining
Union Restaurant

This cozy eatery, with its rustic decor and an ever-changing seasonal menu, grew to become a local favorite. The brainchild of acclaimed Chef Bruce Kalman, this restaurant embraces a "less is more" philosophy, letting the fresh, locally sourced ingredients speak for themselves.

Perle Restaurant

If you're in the mood for classic French cuisine, look no further than Perle Restaurant. This restaurant oozes elegance and charm on top of its delightful French dishes, from escargot to coq au vin. Like the expertly prepared and beautifully presented dishes, the wine selection is equally impressive, which makes Perle Restaurant an ideal spot for a memorable date night.

Magnolia House

This gastropub effortlessly combines old-world charm with a modern twist. The menu offers a tantalizing array of small plates, burgers, and classic American dishes. The cocktails are nothing short of remarkable, making it a hotspot for those who appreciate both great food and unique drinks.
Cultural destinations
Norton Simon Museum

The Norton Simon Museum houses a spectacular collection spanning periods. It is renowned for its exceptional European art, featuring works from the Renaissance through the 20th century. Visitors can also explore the tranquil sculpture garden, designed to resemble Monet's inspiration for many of his impressionist paintings – his lush garden in Giverny, France which featured a water lily pond surrounded by drooping willows. The Norton Simon Museum's own garden features not just a recreation of Monet's pond and foliage, but also carefully curated masterworks of American and European sculpture, which has included a bronze cast of Rodin's "The Thinker." 

The Huntington Library, Art Museum, and Botanical Gardens

Huntington boasts a delightful blend of art, culture, and nature. Its library houses rare manuscripts and books, while the art museum showcases American and European art spanning centuries. The stunning botanical gardens are a living work of art, offering a visual treat of diverse landscapes.

Pasadena Playhouse

This historic venue is a must-visit for those who want to experience the magic of live performance. As the official State Theater of California, the Pasadena Playhouse is one the oldest theaters in the US, having been founded in 1917. In addition to Shakespearean classics, it stages contemporary and experimental productions.
Outdoor attractions
Eaton Blanche Park
Eaton Blanche Park is a hidden gem nestled in the heart of Pasadena. With its shady trees and picnic areas, it's the perfect spot for a relaxed family outing or a tranquil afternoon reading a book. A small creek runs through the park, adding another layer to the area's soothing ambiance.
San Gabriel Mountains
The San Gabriel Mountains offer an extraordinary outdoor playground.  Just a stone's throw from Pasadena, the mountains are ideal for embarking on hiking expeditions suitable for various skill levels. Mount Wilson, for instance, offers breathtaking panoramic views of the surrounding communities. Meanwhile, the Gabrielino Trail along the San Gabriel River provides a refreshing escape into the wilderness.
Echo Mountain Trail
For a hike that combines history and the great outdoors, the Echo Mountain Trail is a fantastic choice. It follows the old Mount Lowe Railway, which leads up to the mountaintop. Along the way, you'll spot remnants of the railway, such as tracks, tunnels, and bridges. Once you reach the summit, you'll be rewarded with sweeping views of the Los Angeles basin and beyond.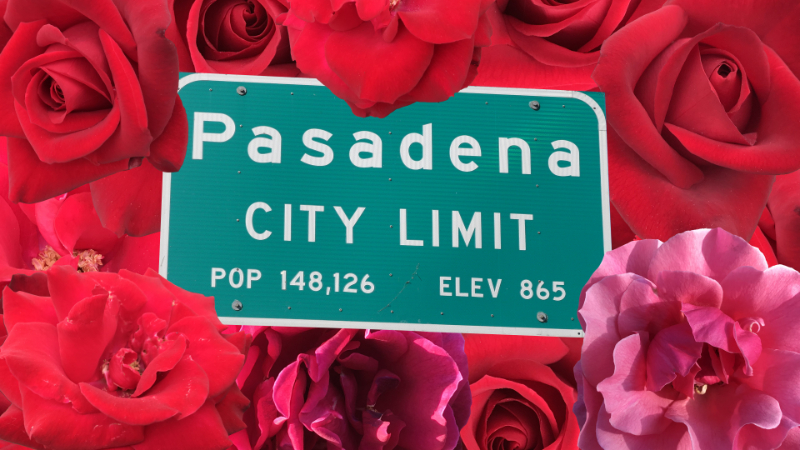 Festivals and events
Rose Parade
Nothing captures the spirit of Pasadena like the annual Rose Parade. Held on New Year's Day, this world-famous event features breathtakingly adorned floats, marching bands, and equestrian units. It's a grand spectacle that has become a beloved tradition since it was first held in 1890.
Pasadena International Film Festival
Every May, the Pasadena International Film Festival brings a diverse range of independent films to the city. Showcasing emerging talent and engaging storytelling, this 8-day event attracts filmmakers and cinema lovers from all around. It's a chance to discover hidden cinematic gems and interact with filmmakers in an intimate setting.
Pasadena Music Festival
Music takes center stage at the Pasadena Music Festival, an event that showcases an array of musical genres and talents. Whether you're into classical compositions, rock 'n' roll, or jazz, this festival has something for every music lover. It has a reputation for inviting high-caliber artists. In the past few years, it featured headliners like Kendrick Lamar, Billie Eilish, and the Foo Fighters.
Find Homes For Sale in Pasadena Today!
As a city with so much to offer, Pasadena presents homebuyers a real estate investment opportunity they won't regret. Gain a competitive edge in this highly sought after community  by working with us at Sharona Alperin & Associates. Equipped with years of industry experience and in-depth market expertise, our powerhouse team of experts is committed to helping you achieve your real estate goals. 
Set your home buying journey up for success by working with Pasadena's best. Reach out to Sharona and her team by phone or send an email today.
Homes For Sale In
Pasadena